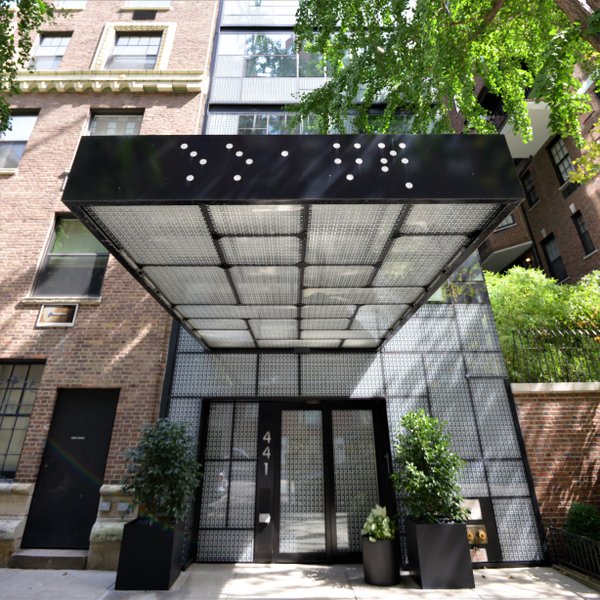 About 441 East 57th Street
Located in Sutton Place, The Collection takes a unique approach by mixing classic brick architecture with simplistic modern design, complemented by the addition of a rectangular glass column of solariums to right side of the building. Sitting atop of the glass structure is a lovely rooftop lounge open for residents to enjoy, allowing for a picturesque view of Manhattan. It is also situated near the edge of the East River overlooking Roosevelt Island, also giving easy access to Brooklyn right next door. The apartment is a comfortable walk to the southwest entrance of Central Park.
These boutique condominiums are a potentially appealing aspect of this luxury apartment, since there are only six units in the entire building. For the person who enjoys making a big place like New York City a little smaller, this building offers that amenity. This offers excellent privacy for all residents, adding to their already increased security of high-tech thumbprint readers as the doorman, in addition to a concierge. Moving into the kitchen, the design made for a gourmet chef will inspire delectable dinners. In the bathroom, a relaxing rain shower awaits, preparing you for whatever lies ahead.
An additionally enjoyable amenity of the building is that each unit has access to the solarium, providing direct access to sunlight for a great multi-purpose room. Winters will never feel dull with a fireplace in each unit, and lofty ceilings creates a feeling of never-ending space.
Interested in Buying or Renting in 441 East 57th Street?
There are currently 1 units for sale in the building. Please click on the links below to get more information about the availabilities in 441 East 57th Street and we will connect you with a buyer's agent.